Why is Local SEO important for your business.
LOCAL SEO
Local SEO has everything to do with your brand in the new year and it should support just one goal: better local customer service.
Does this sound too simple? Doesn't marketing brim with a thousand different tasks? Of course — but if the goal of each initiative isn't to serve the customer better, it's time for a change of business heart. By putting customers, and their problems, at the absolute center of your brand's strategy, your enterprise will continuously return to this heart of the matter, this heart of commerce.
What is local customer service in 2019?
It's so much more than the face-to-face interactions of one staffer with one shopper. Rather, it's a commitment to becoming an always-on resource that is accessible to people whenever, wherever and however they need it. A Google rep was recently quoted as saying that 46% of searches have a local intent. Mobile search, combined with desktop and various forms of ambient search, have established the local web as man's other best friend, the constant companion that's ever ready to serve.
Let's position your brand to become that faithful helper by establishing the local customer service ecosystem.
Contact us at Valley Green Web Design for more information on small business web design.
What is local SEO?
Local SEO involves optimizing your site to make it more visible in search results for local search queries. We've all seen this lovely box above organic results.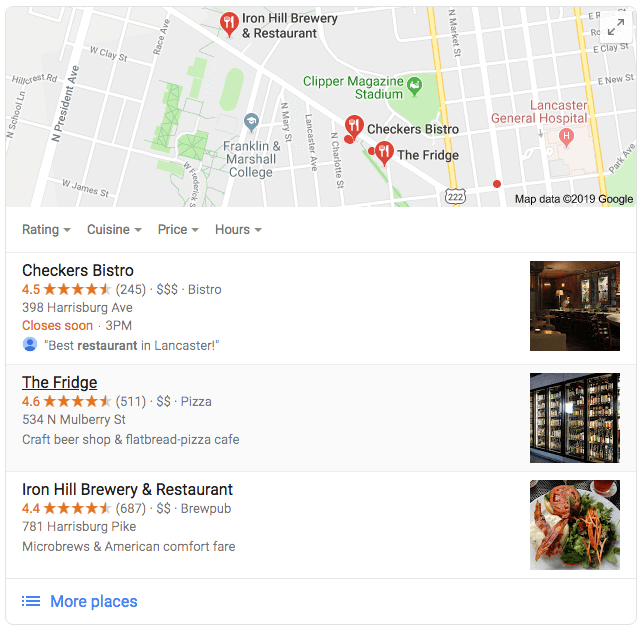 This is known as the local pack. These local listing have the benefit of showing above organic results, giving them increased visibility to users. In local SEO, your goal is to optimize your site to show in the local pack. These optimization strategies can include:
Claiming Your Google My Business (GMB) Profile
Building Local Citations
Performing Local Keyword Research
Local Link Building
Optimizing Your On-Page Content for Local Search
Adding Local Business Schema Markup
How does local SEO differ from your current SEO strategy?
Like traditional SEO, local SEO is all about determining who your audience is, what they're searching for, where they're searching, and how you can get your business in front of them. The only difference is that you're creating content that is geared towards those local searches.
So, if you currently have a healthy SEO strategy, you're already on the right track when it comes to local SEO! If your current SEO strategy isn't quite there, I would check out some of these helpful resources for you to master the basics:
Once you've reviewed some key basics, we can begin to take steps to get your business in a better position for local search.
Claim your Google My Business profile
Before you do anything else, make sure you claim your Google My Business profile if one already exists for your business. This is a top ranking factor for local search, so be as thorough as you can when updating your profile. If there isn't a profile for you to claim, you can easily sign into your Google account and create one.
One thing worth noting is that users are able to make suggestions regarding your business such as hours, location, and business categories. To make sure your profile is accurate, claim your listing as soon as possible so you're able to make all the necessary adjustments.
We help you design
the website you want.
Don't ignore a local SEO strategy: Why it's crucial for small business success.
Subscribe to our newsletter